Free Things to do on the Sunshine Coast
There is plenty to do on the Sunshine Coast that will satisfy both holiday makers and locals alike, but they don't all have to cost you an arm and a leg. In fact, there are actually quite a lot of fun things to see and do that won't cost you a cent.
As well as all your typical attractions, the Sunshine Coast is home to some beautiful natural features, breathtaking scenery, secluded spots and great parklands. There are even a number of facilities and attractions that have been set up by the local council to provide free entertainment for families.
We've put together a list of some of our favourite things to do on the Sunshine Coast that are free of charge. There are plenty more to discover but these free attractions and activities are a great place to start.
A Day at the Beach
As its name would suggest, the Sunshine Coast is home to some spectacular, sunny beaches that stretch along the coast. A day at the beach has always been an Australian family favourite, and with patrolled beaches from Noosa to Caloundra you can have family fun under the watch of trained Surf Life Savers.
While the whole coastal strip is made up of wonderful, white sand and sparkling, clear waters, there are a few that are particularly good for children. Kings Beach, Bulcock Beach, Golden Beach, Cotton Tree, Mooloolaba Beach and Mooloolaba Spitall have beachside playgrounds and are favourites for young families.
Noosa Main Beach has calmer waters for those wary of the bigger waves, while those who enjoy surfing tend to frequent Point Cartwright, Alexandra Headland, Sunshine Beach, Moffat Beach and between Coolum and Peregian for the excellent surf Breaks.
Bushwalking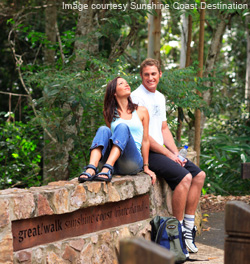 There are plenty of National Parks on the Sunshine Coast with tranquil surrounds and magnificent views that are perfect for Bushwalking.
None of these parks charge entry fees for walkers and you'll find that the paths are well maintained. Some of the most scenic spots even have lookout platforms where you can rest, grab a few shots and also read a bit of history and geography of the local area.
You can pick up free maps of the parks at most information centres on the Sunshine Coast and there's plenty of parking available where the walking trails start.
Choose from a range of terrains to slog it out up and down mountains, enjoy easy coastal walks or even visit waterfalls where you can take a swim in the cool, fresh waters of rainforest rock pools.
Parks, Playgrounds & Picnics
There are plenty of parks and playgrounds throughout the Sunshine Coast, many of which have free barbecue facilities. So pack a lunch, grab the BBQ tools and make a day of it. There's plenty of open grassy spaces and great playgrounds for the kids.
Perhaps the best park for families with young children is the Big Pelican in Noosaville. The shady parklands are located along the Noosa River and are also a hang-out joint for many real pelicans that are more than happy to be fed by kids. You'll find kid's playgrounds, bike tracks and outdoor gym equipment along several walking paths throughout the park.
Take a walk down Hastings Street
The shopping strip of Hastings Street in Noosa is much loved by visitors for its boutique stores and 'village feel'.
A walk down this hidden gem of the Sunshine Coast will showcase an array of unique gift items, trendy home wares, art, boutique fashion and some lovely cafes and restaurants as well as great views from the boardwalk.
It's free to browse and window shop but we can't guarantee you won't buy anything.
Visit the Botanical Gardens
There are a number of beautifully maintained Botanic Gardens on the Sunshine Coast, two of which are free to visit.
The Maroochy Regional Bushland Botanic Gardens are made up of plants native to the region and flourish in the Sunshine Coast's climate. The gardens include walking tracks, creeks, lagoons, and Arts & Ecology Centre, picnic tables and a sculpture garden. A number of the walks emphasise certain elements of the native flora & fauna, such as the Whipbird Walk and the Mossy Log Walk.
What was once a dumping ground has since been lovingly restored into the Noosa Botanic Gardens on the shores of Lake Macdonald. These gardens are made up of eight hectares of native and exotic plant species, winding paths, ponds, an open air bush chapel and even a Grecian style amphitheatre.
Go Fishing
Sitting right on the shores of the Pacific Ocean, with a multitude of creeks, estuaries and rivers, the Sunshine Coast is absolutely full of great Fishing locations. There are plenty of tour operators that promise to take you out to the best fishing spots, but all you really need to do is ask the locals and they will steer you in the right direction.
If you don't mind the drive you can take a one hour trip up to Borumba Dam. This is often referred to as a fisherman's paradise for its large stocks of Perch, Bass and Cod. No matter where you fish though, you're going to be in a position to enjoy great views or the mountains, ocean or winding rivers with plenty of greenery.
Take a Scenic Drive
Pack a lunch and a camera and head out for a Scenic Drive. There are plenty of routes you can take from the Sunshine Coast that offer wonderful views and are full of lookouts along the way.
Follow the coastal roads and you'll enjoy the ocean views, the Glasshouse Mountains off in the distance and pass through a number of sleepy beachside towns.
Alternatively, head up into the Sunshine Coast Hinterland where the temperature drops as you climb up the windy roads through ancient rainforest and quaint mountain villages.
Art & Craft Markets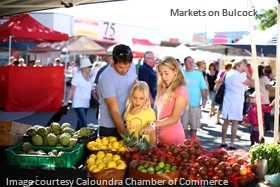 The Sunshine Coast is home to a number of artisan & farmers markets with tasty food, trendy clothes and unique gift items. Stretching from Caboolture all the way north to Pomona, and up to Melany in the mountains, there are markets all over the region occurring weekly, fortnightly and monthly.
The Eumundi Markets are the biggest on the Sunshine Coast and one of the biggest in Queensland. Any Wednesday or Saturday of the year thousands of locals, interstate and international tourists come to enjoy the atmosphere, the fun and of course the multitude of arts, crafts and produce on display, as well as music and street theatre.
Visit a local Factory
One of the Sunshine Coast's more popular tourist attractions is The Ginger Factory, an actual working ginger factory that opens its doors and gardens free to the public. You can take a tour of the factory and see the ginger produced into a range of tasty treats. The beekeepers will also take you through the secrets of their honeybees.
Just across the road from The Ginger Factory is Nutworks and the Chocolate Factory. They too open their doors to the public and take tours of the chocolate making process. Although both these attractions are free, you will probably want a taste of these delicious snacks and treats after seeing them made fresh, right before your eyes.