Caloundra - Holiday Destination
Caloundra is fast becoming recognised as one of Australia's fastest growing holiday destinations. The township is located at the southern end of Queensland's stunning Sunshine Coast. The region stretches from the cool green of the hinterland mountains to the crisp blue and white of the beaches.
With its greenery, near perfect climate, easy lifestyle and ideal conditions which prevail it is renowned as the most southerly resort on the Sunshine Coast. Several beaches make up the coastline of Caloundra and include Golden Beach, Bulcock Beach, Kings Beach, Shelly Beach, Moffat Beach, Dicky Beach and Currimundi. Each have their own special charm and are perfect for a family day out or a romantic sunset stroll.
Caloundra Accommodation
For more information about accommodation in Caloundra and to book your accommodation online, check out the Caloundra accommodation page.
Caloundra offers guests a fantastic range of accommodation choices including resorts which are very family friendly and are great for longer stays, romantic hotel getaways, beach houses for large groups and cheaper hostels and holiday parks for those on a budget.
Things to Do in Caloundra
Your days will be jammed pack with all the attractions and activities on offer in Caloundra. You can take it easy and relax on one of Caloundra's several beaches or fill your day with all that Caloundra has on offer.
Activities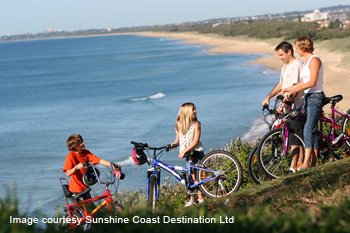 There are a whole array of outside activities to keep you on your toes while on holiday. As you can imagine the ocean plays host to many of Caloundra's boredom busters. Water related activities include: cruises, fishing, sailing, snorkeling, scuba diving, boat hire, windsurfing, jetskiing and surfing. The ocean is your oyster!
Stretching from Golden Beach, around the Caloundra Headland and to the sandy beaches of Kawana is the Caloundra Coastal Path. It's a terrific way to keep fit on holiday while enjoying the natural surrounds, stunning views and some of the areas historic sites.
You can interupt your walk with a swim at the heritage listed Kings Beach Bathing Pavillion which was built in 1937.
Caloundra is home to the par 71 Caloundra Golf Club that offers visitors a challenging yet tranquil game. The club also offers something a little bit different with a 4pm daily feeding of rainbow lorikeets. It's a great opportunity to snap your pictures with these beautiful creatures. Speaking of animals the Sunshine Coast Turf Club is located in Caloundra and is one of Australia's finest thoroughbred racing and training facilities. Enjoy a glass of champagne and a punt on the horses in the Sunshine Coast sun.
Attractions
The several beaches which make up Caloundra make it the perfect playground for those wanting a sunny, beach holiday. Many of the beaches in Caloundra are patrolled on weekends and during school holidays. Kings Beach is the most popular surf beach and offers patrolled swimming 7 days a week.
Another favourite is Dicky Beach which has the iron skeleton of the S.S. Dicky which was forced to shore in 1893. Bulcock Beach is another favourite and is perfect for fishing, kitesurfing and windsurfing and has recently been under redevelopment so there's a great boardwalk and streetscape.
There's other historic attractions to take a look at including the Caloundra Lighthouse which was built in 1898 and is the town's oldest building. It's located on Canberra Terrace and sits next to the new lighthouse.
Aviation and history enthusiasts might also enjoy a trip to the Queensland Air Museum. Here you will find an extensive collection of planes and other aspects important to Australia and Queensland's aviation history.
Every Sunday you can visit the Bulcock Street Markets where you can browse the stalls selling unique crafts, art, clothing and produce and enjoy breakfast or lunch under the trees. There's also family friendly entertainment and fun.
On Sunday mornings you can stock up your picnic basket with some amazing goodies at the Caloundra Country & Farmers Markets. Here you will be able to purchase the freshest seafood, fruits and vegies, deli foods and flowers.
Book Caloundra Tours and Experiences Online Now
Caloundra Restaurants
Caloundra offers al fresco dining at it's best with many restaurants overlooking the gorgeous beaches. Sit down to your meal and listen to the waves crash on the shores. You can eat out for breakfast, lunch and dinner in this town as there are so many options and cuisines to choose from. Modern Australian, fish'n'chips, Thai, Indian, Italian, Sushi and everything in between. View our list of Caloundra restaurants.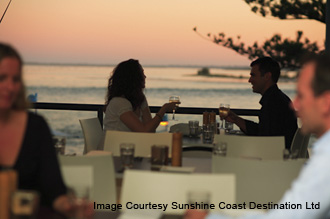 Tides Waterfront Dining is Caloundra's premier restaurant offering delicious seafood fare and lovely wine list. You can enjoy 270 degree views with your meal as well as friendly service. It's the perfect spot for a special night out!
Blue Orchid Thai Resturant is an award winning Thai restaurant in the heart of Caloundra. Blue Orchid offers authentic Thai cuisine and intimate decor perfect for a night out with friends. There's a great wine and beer list with bottle shop prices attached!
Feel at home in the lovely little italian restaurant, Domenico's on Kings. The restaurant offers delicious, traditional Italian food using the fresh produce that is sourced locally. It's a great place to go for a casual dinner with the whole family with many children friendly meals on offer. The dessert tasting plate is an absolute must!
Milano's Gelateria is one of the best gelato spots on the Sunny Coast. People come from miles around to taste their delicious selection of flavours which even include a selection for those who are lactose intolerant. We recommend trying the Pistachio!
Weather & Climate
Residents and visitors can enjoy a sub-tropical climate tempered by the ocean - therefore, it is never blazingly hot and rarely freezingly cold. Tropical lightning storms are common in the summer months.
The temperature ranges from 21°C to 28°C in the height of summer and 10°C to 20°C in winter. Visit the Weather page for more information about the Sunshine Coast climate and current weather conditions.
Getting to Caloundra
Caloundra is 1 hour 20 minutes drive from Brisbane, or around 103 kilometres. The Bruce Highway is nearest highway to the coastal town. Visit our Getting to the Sunshine Coast and Getting Around the Sunshine Coast pages for transport options.
Location Map
More Caloundra Information