Sunshine Coast Surfing Lessons
The Sunshine Coast's white surf beaches stretch for over 70 kilometres. The Sunshine Coast is essentially a low rise alternative to the Gold Coast, and has many unspoilt and secluded beaches with awesome breaks that are ready to be surfed.
While the Sunshine Coast rarely sees the giant swells that places like the Gold Coast's Snapper Rocks experiences there are many point and beach breaks that provide high quality, well shaped waves. The breaks by and large are not as busy as those further south. The breaks around the Noosa National park offer clean waves with SE winds. Alexandra Headlands has a nice right hander point break...but watch out for the board eating rocks.
Surfing Lessons
Beginner's group surfing lessons at Coolum Beach on the Sunshine Coast are the ideal way to get started on the path to enjoying one of the best thrills available on the water. With a group atmosphere of people with similar skill sets, there's no need for embarrassment as you'll all be in the same boat - and over the course of 2 hours, your friendly and encouraging surfing instructor will help ensure that you've got your confidence up and are getting the most out of the experience.
There's only one way to get started, and that's to get in the water. However, a few helpful tips, the right equipment, and heaps of encouragement from your highly qualified instructor will go a long way to getting you hooked forever. Your surfing lesson includes a 2 hour surf lesson, surf safety information, all the necessary equipment including soft beginner board, leg rope and a wetsuit or rashie and surf instruction to suit your skill level.
Paddle Surfing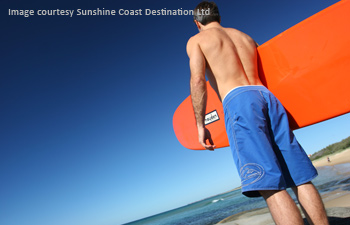 Stand up paddle surfing is a traditional Hawaiian sport derived from an ancient form of surfing. It's now emerging globally and promotes balance, strength and core fitness.
It is excellent for surfers and non-surfers alike and provides a workout to strengthen your core muscle groups, as well as an excellent view of incoming sets and the natural surroundings.
Give paddle surfing a try when visiting the Sunshine Coast - ask one of the lesson providers or try it on your own. It's heaps of fun and the Sunshine Coast beaches are perfect for catching waves.
Sunshine Coast Surf Guide
If you already know your way around a board and you prefer to do your own thing, you can choose from an extensive selection of surfing beaches & breaks. The Sunshine Coast is home to over 126 surfing locations with great conditions that attract people from all over the world. Needless to say, you've come to the right spot.
For beginners there are a number of beaches with calmer waters that still offer decent breaks, so you can get the hang of standing on your board before hitting the bigger surf. Noosa Main Beach is the only north facing beach on the Sunshine Coast, offering calmer waters and protection from the wind. Little Cove has gentle rolling point breaks while Mooloolaba, Coolum and Noosa corners are protected with heavy shore breaks that are perfect for beginners.
The more experienced surfers will find suitable surf breaks at Point Cartwright, Alexandra Headland, Sunshine Beach, Moffat Beach and anywhere between Coolum & Peregian. The outer points of Noosa National Park often attract the surfing veterans and can be a little tricky. Conditions will obviously change depending on the time of day and season so chat to some of the local surfers, they'll be happy to show you their favourite surf beaches and breaks.
Advanced surfers that are looking for a challenge can head out to some of the islands offshore for the best breaks. Double Point Island is uncrowded (as it's only accessible by 4WD) and offers a hectic left wave in the corner. Old Woman Island has both left and right breaks with the right being the only reef break on the Sunshine Coast. Old Woman is better experienced if you have a boat to get there though as there are sharks in the waters on the way there.
Buying Surfboards
If you're in the market for buying a surfboard on the Sunshine Coast there are many great options to choose from.
Tradewind Surf specialise in custom made surfboards with a vast number of shapers to choose from. You can check out their site at www.tradewindsurf.com
Sunshine Coast Surfing links