Eumundi & Yandina - Holiday Destination
Just 90 minutes drive from Brisbane or 20 minutes drive inland from Noosa are the hinterland towns of Eumundi and Yandina. Traditionally farming centres, they're now the hub of weekend markets, groovy places to stay and some of the most talked about restaurants on the Coast.
There is a blend of old and new within Eumundi. The streets are lined with historical buildings, some dating back to 1890-1930 and are very typical architectural examples of their era. Eumundi also sports modern art galleries, boutique wineries and local history museums. Eumundi, truly, has something for everyone. Less than 15 minutes away by car, Yandina is another must-visit place in this area and is home to the renowned Ginger Factory.
Eumundi Accommodation
If you're looking for something out of the ordinary Eumundi's Hidden Valley at Eumundi is just the ticket. The 100-year-old Queenslander is furnished in an eclectic mix of styles and pieces collected from around the world. Or if you're looking for something a little different, view our Sunshine Coast Hinterland accommodation options online.
The Mountain Retreat Beach House is nestled at the bottom of Mount Cooroy in the charming village of Eumundi. This brand new private residence is just a short drive to the Sunshine Coast's beaches, Noosa's famous Main Beach and Hastings Street. A sprawling home that would accommodate two large families on holiday, it is the perfect getaway for couples, families, and large groups on business or pleasure.
Things to Do in Eumundi & Yandina
Eumundi Markets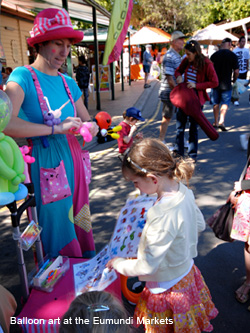 Every Saturday and Wednesday, come rain, hail or shine, the population of Eumundi explodes from 500 residents to several thousand as visitors flock to the markets. The Eumundi Markets were established in 1979 and are situated in the heart of this historic town.
Since then, the Eumundi Markets have become world-renowned and one of Australia's leading tourist attractions. The iconic and towering heritage-listed fig trees rise above the 500 plus stall market.
The famous Eumundi Markets are held on Wednesdays, Saturdays and Sundays. It is especially good for organic fruit and vegetables and home made preserves.
The market's policy of make it, bake it, design it, sew it or grow it, ensures quality products and the very best of locally produced goods. Antiques and quality bric-a-brack can be found at the Old Butter Factory Markets held every Sunday from 8am to 2pm.
Find and buy original artworks, sculptures, and furniture, handmade toys, homewares, and skincare, cutting edge fashion and jewellery by local designers, as well as fresh local produce, plants and flowers, and fabulous food to enjoy while you explore Eumundi.
There's always a stellar line-up of world-class musicians and talented street performers, as well as face painters, and alternative therapists offering massages, palm readings and more.
See below for transfers to the markets from other parts on the Sunshine Coast.
Book Now
Stop in for a look at the largest Ginger Factory in the Southern Hemisphere at Yandina, just a short drive from Eumundi, and treat yourself to a ginger and macadamia ice cream. Also on offer are ginger plants and other heliconia varieties and a range of products including jams, desert and cooking sauces, pickled sushi ginger and the good old crystalised and chocolate-coated variety.
And More...
Across from the Eumundi Markets is a typical country pub, Joe's Waterhole, where you can sample a great counter meal, and find Uncle Bob's Jug Band playing on Saturdays. Another terrific pub is the recently renovated Imperial Lionheart Hotel - with terrific views of the main street from 'The Green Room' - the bar on the top verandah.
If you're a golfer, you're in the right place with three courses almost within putting distance!
Book Eumundi & Yandina Tours and Experiences Online Now
Eumundi Markets Tour
The Eumundi Market is the biggest on the Sunshine Coast and one of the biggest in Queensland. 10,000...

Eumundi & Yandina Restaurants
One of the most divine dining experiences you could hope for is The Spirit House Restaurant at Yandina. Private tables are positioned amid greenery around a lake or in the open air Spirit House overlooking the water. Asian-style cuisine is the order of the day and anything will impress, but be sure to try the whole fish done with chilli and lemongrass. You can also join in one of their cooking classes.
Weather & Climate
Residents and visitors can enjoy a sub-tropical climate tempered by the ocean - therefore, it is never blazingly hot and rarely freezingly cold. Tropical lightning storms are common in the summer months.
The temperature ranges from 21°C to 28°C in the height of summer and 10°C to 20°C in winter. Visit the Weather page for more information about the Sunshine Coast climate and current weather conditions.
Getting to Eumundi
Eumundi is 1 hour 35 minutes drive from Brisbane, or around 125 kilometres, going mainly via the Bruce Highway. Yandina is another 15 minutes north from Eumundi. Visit our Getting to the Sunshine Coast and Getting Around the Sunshine Coast pages for transport options.
Location Map
More Eumundi information