Family Holiday Rentals are the best choice
The Sunshine Coast is an extremely popular tourist hot-spot for families who are keen to get away from the fast paced stress of their everyday life. The numerous national parks, tourist attractions and golf courses make this location in Queensland an extremely popular family holiday destination. Families that wish to travel to Sunshine Coast but are afraid of the cost of a family holiday may want to consider renting a holiday rental.
Holiday rentals are ideal for families that are looking to experience the thrills of popular holiday destination without spending a lot on luxurious hotel accommodations. Families that are considering Sunshine Coast holiday rentals will find that they experience the following benefits of a holiday rental.
Spacious accommodation for the entire family
One of the frustrating things about staying in a hotel while on holiday is the lack of space. Holiday rentals on the Sunshine Coast provide families with spacious accommodation that will prevent everyone from tripping over each other all the time.
Imagine allowing every member of the family to have their own private bedroom and extra space to lounge around. Many holiday rentals include numerous private bedrooms and spacious sitting and living room areas that provide families with plenty of space to enjoy their holiday.
Perfect privacy in holiday rentals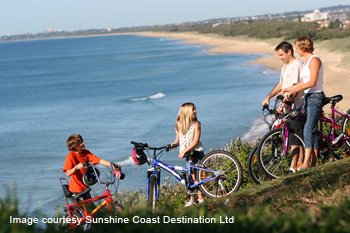 Hotel stays may be fun, but they are only as fun as the neighbours surrounding you. If you are unfortunate enough to have noisy or unfriendly neighbours it can put a sour note on the entire holiday.
Holiday rentals offer families a certain level of privacy that avoids this very problem. Most holiday rentals have their own private entrances.
This means there is very little contact with other travellers in the same area, allowing families to enjoy their holiday in peace and quiet.
Enjoy mouth-watering meals in a private kitchen
Holiday rentals are perfect for families because most, if not all, provide a small, private kitchen that allows families to cook their own meals. These kitchens allow families to really feel like a local by shopping in the shops or markets, and cooking up mouth-watering dishes. Families are able to save money by cooking their own meals, and really enjoy some mouth-watering, tasty cuisines.
Travelling to the Sunshine Coast doesn't have to cost a fortune. Families that are looking to travel to the Sunshine Coast will find holiday rentals a great way to travel on a budget.
To find the perfect holiday rental for your family, go to www.homeaway.com.au